Flexible Financing Arrangements
If you're on a budget, an unexpected dental expense can have a significant impact on your plans. However, finding a knowledgeable dentist with payment options can make managing the cost of care less stressful. At our practice, we offer dental payment options that can be used by those with or without dental insurance. Instead of providing one large payment, you'll repay your balance over a series of monthly installments. Each plan has different terms, so be sure to explore your options with one of our team members. If you're asking yourself, "How can I visit a high-quality dentist near me that takes payments?", you'll find the information you seek at our office. We'll find a financing arrangement that works for your smile and budget.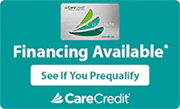 *Please remember you are fully responsible for all fees charged by this office regardless of your insurance coverage. Our office will be happy to provide you with a completed insurance form for you to submit for reimbursement. Our office is not a party, nor are we affiliated with in any dental plan. Our goal is to provide you with the best care possible without any intrusion by dental insurance companies as to the best care available. We provide exclusive and unlimited time for your treatment and consultations.